ERIK - Brussels Office
Rond Point Schuman 14 (5th floor)
1040 Brussels

tel. +32 (0)2 286 8566
fax. +32 (0)2 286 8568
email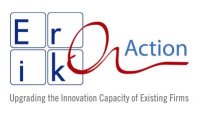 ERIK ACTION is a Capitalisation project approved on the first INTERREG IVC call for proposals.
The project has also the direct support of the European Commission as a Fast Track initiative.
ERIK ACTION's aims to improve the effectiveness of regional development policies in the field of innovation and the knowledge economy and, specifically, in upgrading the innovation capacity of existing enterprises. For more information on the project please see the project summary or contact us.

ERIK (European Regions Knowledge based Innovation Network) is formed by 52 regions.

ERIK's main aim is to sustain and further develop networking and good practice exchange between European regions.

ERIK Network's objectives include:
- benchmarking and disseminating good practices of innovation and knowledge-based policies;
- supporting inter-regional networking on technological innovation related topics;
- co-operating with European regional networks with similar objectives to create synergies and make networking activities more efficient and better targeted.

ERIK is an open network. Join us!

Direct access to the ERIK RPIA and Good Practice Database Search Engine.

$cerca="1:1::"; #compongo $QUERY_STRING $QUERY_STRING="SELECT id_rec, titolo, sottotitolo, testo, documento, link FROM contenuti "; $QUERY_STRING .="WHERE stato='n' AND id_menu='$cerca' AND archivio='$archivio' ORDER BY data_scad asc"; #die ($QUERY_STRING); #--- eseguo la query $esito=db ($DBHOST, $DBUSER, $DBPASS, $DBNAME, $QUERY_STRING); $num_rows = mysql_num_rows($esito); while ($riga = mysql_fetch_array($esito)) { $id_rec=$riga[id_rec]; $titolo=$riga[titolo]; ?>
echo "".htmlentities(stripslashes($titolo),ENT_NOQUOTES)."";?>
} ?>

$cerca="1:2::"; #compongo $QUERY_STRING $QUERY_STRING="SELECT id_rec, titolo, sottotitolo, testo, documento, link FROM contenuti "; $QUERY_STRING .="WHERE stato='n' AND id_menu='$cerca' AND archivio='$archivio' ORDER BY data_scad asc"; #die ($QUERY_STRING); #--- eseguo la query $esito=db ($DBHOST, $DBUSER, $DBPASS, $DBNAME, $QUERY_STRING); $num_rows = mysql_num_rows($esito); while ($riga = mysql_fetch_array($esito)) { $id_rec=$riga[id_rec]; $titolo=$riga[titolo]; ?>
echo "".htmlentities(stripslashes($titolo),ENT_NOQUOTES)."";?>
} ?>